The Art of Medical Leadership Book & Program
One of the core programs that we provide is The Art of Medical Leadership™ Program.  Using the book as a workbook, we offer two options:
1) Live Virtual Program
2) Video Series
We invite you to take yourself to a new leadership level and expand your influence to make an even greater difference while increasing your enjoyment of your work.
Have fun and take yourself to the next level of leadership!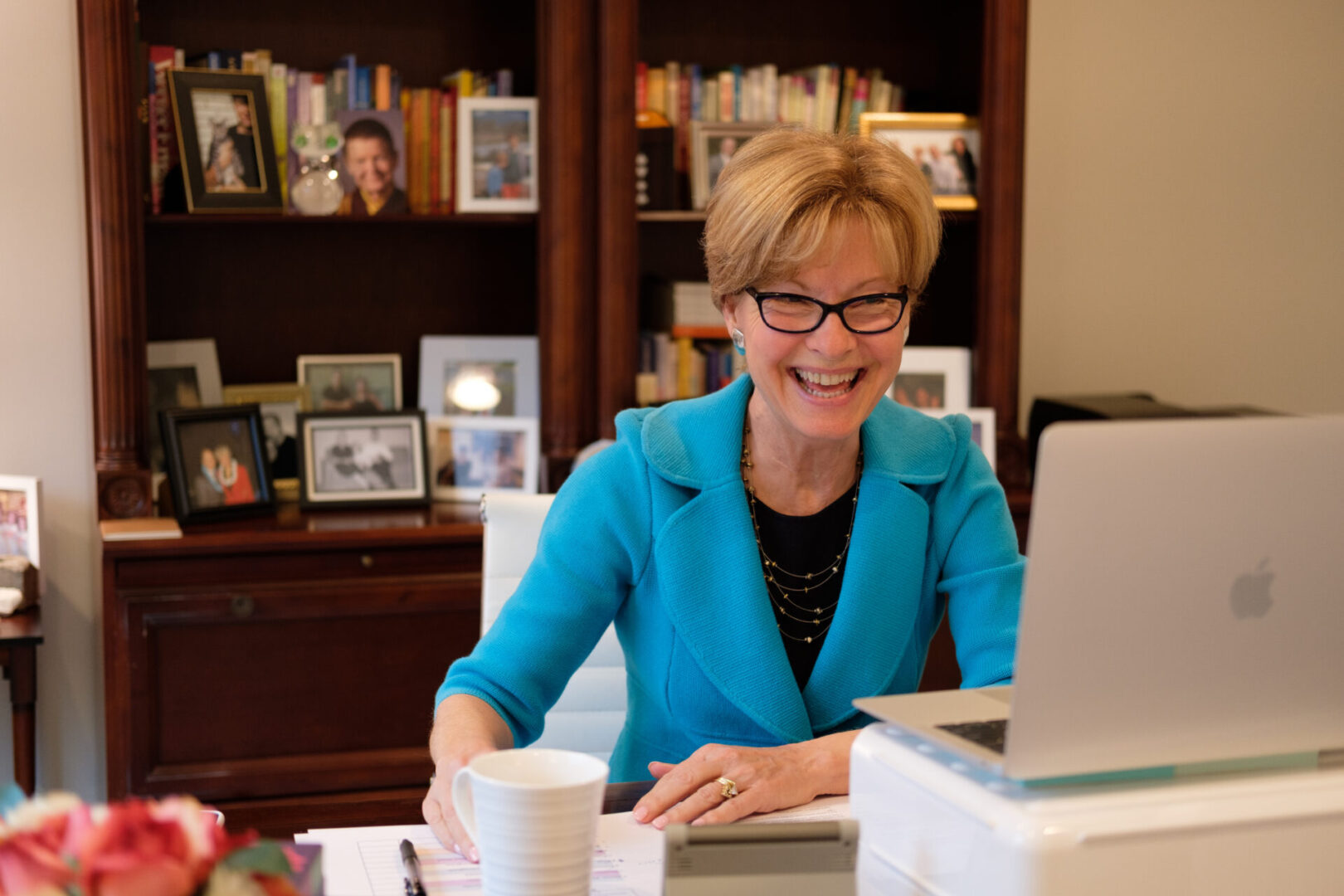 Suzan Oran Leading the Live Virtual Program
Who Participates in the Medical Leadership Program?
"True leadership is drawing out leadership from others. Every person on the team can provide leadership from their role."
- Suzan Oran
What would be possible if this was true for you or your group?
What People Are Saying About the Book
"Major change is afoot in healthcare. Effective leadership at all levels is critical. In this book, the authors present an excellent roadmap for any member of the healthcare team in a practice to learn and enhance their leadership skills. The concepts and skill sets are provided in a straightforward and powerful way for the reader. Each chapter is loaded with high level as well as practical material and concludes with a set of 'to do' items for real learning and acting. I strongly recommend this book for anyone working in a medical practice interested in enhancing their ability to lead themselves, their teams, and their enterprise."
- Len Fromer, M.D., FAAFP Executive Medical Director Group Practice Forum
"In the Art of Medical Leadership, Suzan and Scott have provided a blueprint for transforming a medical office into a mission/vision driven high performing team. In the Art of Medical Leadership, Suzan and Scott have provided a blueprint for transforming a medical office into a mission/vision driven high performing team. I know from experience that the information is powerful when effectively applied, having been part of a company that had the wisdom to hire Suzan Oran as a consultant in 1989. Through effective implementation of the knowledge contained in this book, we became a high performing company where people loved to work. We contracted with hospitals to run their emergency departments. We grew from 4 contracts in 1 city to 22 contracts in 7 states before we sold to a national contract management group. You will get a new sense of what is possible for your practice by reading this book. My personal opinion is you will want Suzan, or someone she recommends, to accelerate transforming your practice using these principles."
- David Pillow, MD Medical Director Emergency Department, William P. Clements Jr. University Hospital, Dallas, TX Past president Texas College of Emergency Physicians
"A must read for any physician looking to be successful in practice, provide true patient centered care, and be of value in their community. This book provides a clear path to an efficient and effective practice by recognizing and reconciling the role of the physician as the practice leader and the staff as engaged team members. Such a highly developed team, led by the physician is well suited to focus on and address the needs of patients in a well-coordinated fashion. Such a highly developed team, led by the physician is well suited to deliver on the promise of the Triple Aim – improved patient health status, reduced healthcare spending, and high levels of satisfaction with care delivery and outcomes."
- Jed Constantz, CEO Employer Advantage Health Care Solutions
"This book defines a "how to" leadership roadmap to change a medical practice culture from the traditional service provider model to a high-performance team with a mission to improve the patient experience, employee satisfaction and practice efficiency. This is a must read for healthcare leaders!"
- John P. Strapp Jr. Co-Founder and Chairman The Kinetix Group
"The Art of Medical Leadership is a unique combination of sound leadership and experience that is a must read for physicians as well as non-physicians that plan to become the next generation of medical leaders. As pointed out by the authors, the skills of becoming an effective leader are quite different from the skills of practicing medicine. Suzan Oran and Scott Conard come from very different professional backgrounds and points of view, that when mixed together, form an excellent blend of experiences, passion, and vision necessary to become a great leader."
- Patrick Dunn, MS/MBA Your Heart Score
"The Art of Medical Leadership contains pearls with practical impact. For those ready to move beyond the typically informal leadership skills gained during medical training, Scott and Suzan redefine listening, team building, and motivating in a whole new way. I recommend The Art of Medical Leadership for colleagues looking to take their practice and patient care to the next level."
- Alyssa McManamon, MD Hematologist-Oncologist
"Suzan Oran and Dr. Scott Conard provide practical techniques to help leaders more effectively manage teams, engage others, and cast vision. An excellent leadership must-read for health care professionals."
- Robert L. Duhaney, MD Internal Medicine of Addison Texas Health Physicians Group
"The Art of Medical Leadership is fantastic, just the right blend of theory and practical application. It is a "must-read" guide for medical leaders interested in learning the path toward transforming themselves and their organizations. Bravo!"
- Tracy Duberman, Ph.D. President & CEO The Leadership Development Group, Inc.
Leadership Online Program
Which program is right for you?
Individual Physician Program
Take yourself to a new level of leadership and increase your influence!
Transform your healthcare group by hosting your own leadership program!
The program uses the book as a guide. We take one chapter per session in the ten-session format. 
What will you gain from this program?
The program is very interactive and we use virtual sessions to increase a sense of connection and engagement. Participants sharing and asking questions are key components of the program. 
What the Participants Are Saying
Online Program Survey Results
94% agree since completing the program, I experience being more effective as a leader and having a more positive influence on my role.
94% agree since completing the program. I am now communicating with others (such as colleagues, patients, family members, etc.) with an increased sense of connection, more clarity, and fewer misunderstandings.
Practice Manager: One of the BEST courses I have ever been apart of. Thank you.
Executive: I wish we could have these meetings monthly.
Provider: I am continuing to read the book, and finding new ideas and recommendations, making our daily work more productive, enjoying every opportunity to improve our patient care and the relationship with our co-workers.
MD: The program was great.
MD: Excellent program – thanks.
COO: The program has provided a lot of motivation to change things in our organization. Instead of corporate trying to "get" others to change, now people who have taken the program are coming to corporate with many good ideas for positive change and are ready to really achieve something. We now have a lot of powerful collaboration.
Three managers that took the program got together and are now leading a group for a change. Their agenda has a lot of Suzan Oran in it :). They have a lot of really good ideas that they are bringing to corporate.
I had some concerns that this program would only provide a brief increase in motivation. But that's not what happened. We have really shifted to a new place. This has been very powerful!
MD: I am at a different leadership level since I started applying the teachings and recommendations from the book. This program has definitely made a difference in the way I see the clinic and how I interact with the rest of the clinic staff. I now acknowledge everybody. I'm powerfully listening to everybody, setting my ego aside, and putting the patients first. I definitely think the program is very helpful and is leaving us at a better level. Thank you very much.
MD: Thank you for the time you have spent with us. It has been wonderful. I have learned a lot. Number one – what I have taken from the program is my leadership level in dealing with upsets. The beautiful quote that keeps playing in my head is "A happy life is not in the absence of hardships but in the mastery of hardships."
Also, being a team player, I now publically acknowledge my team for the good they do and then be private when addressing something that I think is not going in the right direction.
Practice Manager: What I am taking from the book is that it steers you in the right direction to implement positive relationship skills. I think that has taken me to a new leadership level with the things that I have learned and that I've implemented in my practice. For instance, being more open to feedback and always appreciating your staff. Then the coaching you have done with us as well, I think we can all use. I have learned some things that are working efficiently. I'm going to keep implementing them because they are attributes of being a strong leader. I've learned a lot from this program.
Practice Manager: I am at a new level of leadership from this program. I will be here for two years, and I'll continue to think more and be more efficient in my position.
FNP-C: I am new to this role, and this has helped me adjust. It has helped me become a better leader. I have had leadership training before, but this will help me fulfill my goals.
PA-C: Actually, I enjoyed this very much. I've been through a lot of leadership training in the military. Not all companies offer programs like this for employees. In fact, as the book says, this program needs to be offered to all levels in our clinic. Every member is a leader. I really enjoyed the program. There are a lot of things I learned. Especially about meeting the patient at their level when they're upset whether I felt the situation warranted their emotional reaction or not. And now, I want to share with the rest of the MAs what I have taken from this program.
PA-C: So, I have about 5 or 6 takeaway points. One of the things I have enjoyed is how to be engaged with the staff, be more supportive, and inspire them. Maybe figuring out different ways to solve problems, get out of the box a little bit and get them to get out of their box to solve a problem. I've learned how to track projects and see where things are along the way. I've learned how to be a better manager and encourage others to be managers in their area and rise to the next level. We're now using the meeting formats to be more cohesive by getting the staff to share more and being introspective for themselves, and being respectful to others. We have all learned a lot. Thank you.
Manager: I want to thank you for this wonderful book and the wonderful coaching that you have done. I've learned a lot. I've learned to communicate better with Robert. I am now taking feedback from my staff and learning always to acknowledge them daily. Thanks again. Practice Manager: Basically, what I am taking from all of this is to be more open with the staff and approach them easier. To acknowledge them more open. Also, the meeting formats for staff meetings have worked out well for us.
MD: Yes, I think this has been an excellent program. Thank you very much. I feel like a team, and we are better today than three months ago. From the beginning, the first homework was to create a mission/vision statement and to have all the staff participate. All of the assignments have been very helpful and have helped us be a better team in general. It has been a daily learning experience to deal with the staff with patience. There is always something where I can open the book, and I can find the help I need.
MD: I feel that we have not only grown in the level of leadership but more like in our consciousness about everything that's going on here at the clinic. And personally, I am more considerate of other people's roles and other people's expectations, not just mine. We are better; we have a better view of our job here at the clinic in general. The part that I really like the most is actually listening, not just hearing but listening to them. Thank you very much.
Practice Manager: I did benefit from the program. I always thought I was a knower where I knew everything. This program had me take a step back and realize that I can always learn from other people – really everyone around me. I am at a new level of leadership.
Practice Manager: The program's benefit is that I am a better listener for my staff and looking at things from their side. It has also helped me in having them be leaders too. I want them to learn and excel, whether they are with our medical group or another. It is important to me to know that I was a part of them achieving more. I do declare myself at a new level of leadership. I'm having my new MA read the book. It will be helpful for her and the rest of the staff. It has very good information that they can all use.
Practice Manager: Thank you – we will miss you. You have helped us kind of like therapy weekly on dealing with problems that have been, at times, frustrating. It was great for me to get to know my co-managers and providers and listening to their points of view and also how they have resolved problems. The biggest thing that stands out for me is the listening part. Listening to what everybody has to say and taking the time. We are used to getting orders, making sure that those orders come through for our company's benefit, which is great. However, in return, we need to still listen to what our employees have to say because, ultimately, they are the ones that are making us grow. Thank you for that, and I am definitely going back to reference your book and have my monthly meetings. I got an increased sense of worth in that we were given this class. There are not a lot of companies that provide this type of program. So by implementing ideas from your book will also give them an increased sense of worth. Not only as a human being to implement in their home but at this job. So thank you for that.
Practice Manager: What I have taken from the program is that I've been doing what I say I will do not only for the patients but also for the staff. If I tell them I'm going to do something, I actually follow through. If I tell a patient that an MA will call them back, I now follow up and make sure it is done. This program has not only helped me at work but also in my personal life. I have been a knower my entire life, even with my parents. I didn't take what they told me into consideration. Or take what my staff told me into consideration. I came to work like a robot. You give me a problem. I have a solution. It will work, and it will be my solution. I always thought – who else will solve it? Since taking this program, I have definitely become a listener.
Not only at work, but also with my daughters. Everyone notices it. My parents tell me, "Gosh, you are so different." I tell them, "it's Suzan Oran – it is this class I'm taking on Thursdays." I am now more considerate of other people's ideas and feelings. And I'm being accepting of errors. If you make a mistake, you just pick up from it and learn and keep going. I do declare myself at a better level of leadership. I'm a little bummed that the class is coming to an end. I will keep the book on my desk so that I can open it and read it if I get sidetracked.
Practice Manager: The timing of this program was perfect. I was promoted to office manager one month prior to the program. I was feeling overwhelmed and even down, thinking maybe I wasn't up to the new role. But this program really helped and highlighted important areas. Dr. A and I have been practicing real communication skills. I am acknowledging and thanking my staff, and they really appreciate it. It is easier for me to do it than before. I now have a lot of great ideas on how to create teamwork. Yes, I do declare myself at a new level of leadership. Thank you for the book.
FNP-C: It is has been a really good experience. I really appreciate spending time to get to know everybody better. I got to know myself a lot better too. Some things I like, some things not so much. I feel I have become a better listener, and I think this will continue. I don't think I have arrived yet as far as being able to really listen. I do look at people with different eyes. I'm asking myself more about why they are doing what they are doing. When there is something that doesn't make sense to me, I am now sure it makes sense to them. So, I think differently. I do declare myself at a new level of leadership. I want to thank you, it's really been a great experience, and I think all of this is going to continue to grow and be helpful as time goes by.
Practice Manager: Overall, I've taken so many things from the program. I've taken notes every week, I've marked up my book, and there are many things that I already refer back to. I really like to set aside time each week to acknowledge the people in my life, whether it is in my personal or work life. I have a big family so that's been with my family and children. I really like the part in the program about being a listener. I listen for people and listen for what they have to say, even if it doesn't come out in their words. And me being a learner, not just a knower. I declare myself at a new level of leadership. I've gone up the staircase maybe halfway from where I was. I don't think it is a coincidence that the company financially has had the best couple of months that they have ever had. I think it might have a lot to do with what we have been learning. I know I have a long way to go, but I really appreciate everything you have done and everything we learned from you. I know that I will continue to refer to the book and to my notes and keep putting things in place.
Ten one Hour Group In-House Sessions
Anywhere, anytime access. Unlimited viewing for one year.
Participants meet in a group with your facilitator to watch one video session per week. The facilitator will pause the video according to the outline and guide participants to make lists, share, ask questions, and group brainstorming.
Alter your organization's culture over time by having everyone in your organization participate in this dynamic program. This is ideal to be used as part of your onboarding process to ensure that your group continues to not only meet the changing needs in healthcare but to truly excel!
Once you or your organization has participated in at least one Art of Medical Leadership Online Program, you are eligible to use this video series in-house to have these distinctions, ideas, and concepts shape the culture of your entire organization. You will be able to schedule the sessions to fit your participants' schedules best. This video series is ideal for having all of your employees and medical staff take themselves to a new level of leadership to support your organization's success and ultimately improve patient care.